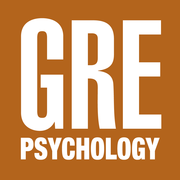 The GRE Psychology Test is a subject test of the Graduate Record Exam that is used in admissions decisions for graduate programs in the field of psychology. Typically, students interested in graduate psychology programs are usually required to take this test as part of their application process. Read on to learn more about the GRE subject test in psychology.
Test Structure
The GRE Psychology Test is a paper-based test that is comprised of three areas within the realm of psychology: experimental, social, and other (general). Each version of the test has approximately 205 multiple choice questions. You'll have two hours and 50 minutes to complete the test, which is administered by the Educational Testing Service (ETS). The exam is typically given in April, September, and October throughout the United States, and there is a charge of $150 to take the test.
Test Content
In addition to knowledge of subject matter that is commonly taught in undergraduate-level psychology courses, the test analyzes the ability to recall facts and information, analyze relationships, apply principles of the field of psychology, draw conclusions based on provided data, and evaluate research design. About 40 percent of the questions fall into the experimental category, which includes questions about learning, language, memory, thinking, sensation and perception, and physiological psychology/behavioral neuroscience. Approximately 43 percent of the questions cover topics in social science, including clinical and abnormal psychology, lifespan development, personality and social psychology. The other 17 percent of the questions test general knowledge about the history of psychology, applied psychology, psychometrics, research design and statistics. All test questions are developed by a committee of six university-level faculty members from schools throughout the United States. Each member writes approximately 15-20 questions each year, which are then reviewed and discussed by the committee in a three-day session.
Test Scoring
The test is scored on a scale of 200 to 880. In addition to the total score on the entire test, those who take the exam will receive two subscores: one in the area of social science and one for experimental content. You'll receive one point for each correct answer; a quarter of a point is subtracted for an incorrect answer. There is no penalty for leaving a question blank. After taking the test, you can choose to have your scores withheld or sent to up to four schools for free. There is a charge for sending your schools to additional graduate programs.
Students who have earned an undergraduate degree and are planning to enter a psychology graduate program should take the GRE Psychology Test. To be successful, you should spend some time preparing.  One option is reviewing the notes and content from your undergraduate psychology courses.  Another option is to use a prep book which provides insight into the types of questions, as well as practice exams. However you choose to prepare, understanding the GRE Psychology Test will help you earn high scores the first time you take test.
Related Resource: What Are the Pre-requisites for Obtaining a Master's in Psychology?